Please Click here to listen to the newscast or right click the link and save as to download.


LAKES RADIO FIRST NEWS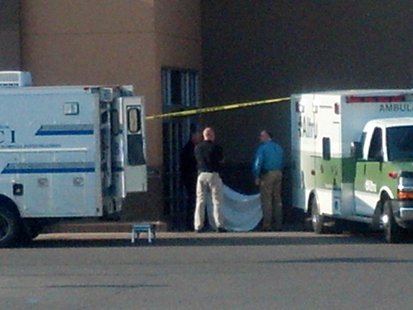 (Photo courtesy KFGO News)

Walmart Shooting
05-27-15
An Airman from Grand Forks Air Force Base is dead of a self-inflicted gunshot wound after police say he shot and killed an employee of Walmart Supercenter in South Grand Forks and wounded another. Police Lieutenant Derek Zimmel says Marcell Willis started shooting seconds after he walked into the store.

Police have no motive for the shooting and have found no link between Willis and the victims. A handgun was recovered near the body of Willis. The person who was wounded was last reported in satisfactory condition.

Fergus Falls Schools Foundation Aid Tentatively Set
05-27-2015
The funding formula for Fergus Falls Public Schools is set… for the moment, that is. Supt. Jerry Ness says the Governor may add more.Ness also he believes at a minimum it will probably wind up at 1.5 percent, or less likely at 2 percent if a compromise is reached in the Governor's favor. Either way, Ness says they will most likely see increases in the first year or two for foundation aid or what is referred to as the 'funding formula'.

Dinner Theatre
05-27-15
A popular eating establishment near Otter Tail Lake and a group of actors are teaming up to create Elmer's Texas BBQ Old West Melodrama Dinner Theatre.
Actor Rick Schara (SHAR-uh) says Elmer's Texas BBQ north of Battle Lake has an underused pavilion in back that he took one look at and thought "this would be a great place to put on a performance." Owner Roger Heaton agreed and the marriage was arranged.
A ticket will go for $35 which include dinner served family style and all the fixings, as well as the show. Director Debbie Kaminski says it will be a family event with humor, villains and heroes.
The first performance is June 12th. Patrons will arrive between 6:00 and 6:30 pm and soon after, the show will begin.
Advance reservations are required. Tickets are only available on line at www.elmersbarbeque.com.
(Other performance dates are June 13, 19, 20 – July 10, 11, 24, 25 – August 7, 8)

Boy Injured
05-25-15
The Otter Tail County Sheriff's Office says a 13-year-old boy was injured in an ATV rollover late Saturday morning.
The boy was riding a 4-wheeler at a home on Norway Lake Road north of Underwood when the 4-wheeler flipped over backward, pinning the boy underneath.
His mother heard the boy yelling and got the 4-wheeler off of him. He was transported to Lake Region Healthcare in Fergus Falls for minor injuries and for treatment of burns on multiple areas of his body. The burns were from hot oil from the 4-wheeler when it flipped over.
The boy was later transported to the Hennepin County Medical Center Burn Unit.

Motorcycle Crash
05-25-15
A Hankinson, North Dakota, man was injured when the motorcycle he was riding crashed north of Mooreton, North Dakota late Friday afternoon.
The Richland County Sheriff's Office says 45-year-old Michael Sanders was northbound when he went off the roadway on a curve. His motorcycle went into the ditch and rolled multiple times. Sanders was not wearing a helmet. He was takent o St. Francis Medical Campus for non life-threatening injuries.
Sanders was charged with driving while under the influence of alcohol. The motorcycle was a total loss.

One Injury Crash
05-25-15
One person was injured in a two-vehicle crash in Becker County late Saturday morning.
The State Patrol says an Acadia driven by 68-year-old Marlys Carlson of Ogema was westbound on Highway 10 when it crossed through a yield sign, striking a Chrysler Concord driven by 81-year-old David Lerud of Detroit Lakes, who was eastbound.
Carlson was not injured. Lerud suffered non life-threatening injuries.
The accident happened at mile marker 44 west of Highway 59.

Fatal Tractor Rollover
05-21-15
An unnamed man has been killed in a farming accident in Douglas County north of Miltona.
The Douglas County Sheriff's Office says they received an emergency call about 8:00 pm Wednesday saying a tractor had rolled over and pinned its operator underneath it.
When emergency responders arrived at the scene, they found that a farm tractor with a front-end loader had rolled over and was upside down. Owners had attempted to upright the tractor but were unsuccessful. The driver was pronounced dead at the scene.
Witnesses indicated that the tractor had rolled over while attempting to remove livestock from a corral. The tractor was being operated on a steep incline and overturned.
The victim's name has not been released pending notification of relatives.

Highway 9 detour between Herman, Morris begins May 26
05-20-2015
Motorists on Highway 9 will encounter a detour between Herman and Morris when a road resurfacing and culvert replacement project begins Tuesday, May 26, weather permitting.
During the project, motorists will detour to Highway 27 and Highway 59. Highway 9 will be impassable at times while individual culverts are replaced.
Only residents who live within the road closure or motorists whose destination falls within the closure will be allowed to use Highway 9. When a road is closed it is illegal for through-traffic to travel on that section of highway.
The closure is expected to last approximately three weeks. Paving work will continue after the detour is lifted.
Highway 9 within the cities of Herman, Donnelly and Morris will be resurfaced after a separate pedestrian accessibility project is complete.
Anderson Brothers Construction of Brainerd is the prime contractor for the $13.5 million project, which also includes work on Highway 28 in Morris and near Alberta, Highway 9 in Wilkin County and Highway 55 near Wendell. The road work is expected to be complete in August.

Prince Honeycutt Home
05-19-15
The city of Fergus Falls will buy a home following action at Monday's City Council meeting.
The home for sale happens to be the same home where one of the earliest residents of the city, Prince Honeycutt, lived.
The home is located at 612 East Summit Avenue. Community Development Director Gordon Hydukovich says the property has been a problem property because it has been allowed over time to deteriorate. And the foundation needs to be replaced. It's possible the house can be saved for its historic value.
The city will pay $9,000 cash for the property and will forgive utility bills and back taxes. Another $2,000 will be used to stabilize the foundation. The money will come from a special grant fund.
Honeycutt arrived in Fergus Falls in 1872 with Captain James Compton, who became a business and political leader in the city. Honeycutt himself operated his own barbershop, was a volunteer fireman, organized the city's first baseball club and ran for mayor. Honeycutt also welcomed a large contingent of Kentucky African Americans in 1895. For a time, Fergus Falls had one of the largest African-American communities in Minnesota.

Arvig Hacker
05-20-15
The website Arvig.com was attacked by a cyber hacker group early Tuesday, and the Arvig.com home page was replaced with a message from the group that attacked the site.
Shaun Carlson, Arvig's senior manager of information technology, says the website was taken offline as soon as the attack was discovered. He says the identity and personal information of customers was never at risk because Arvig.com is completely isolated from all of Arvig's business systems. In addition, he says the message posted by the hacker group did not contain any malicious code that could have been downloaded to a customer's computer.
The company believes this was the opportunistic attack of a cyberhacker group. Arvig uses a popular content management system and a bug was found that was used for the attack. Due to the content management system's popularity, hackers are always on the lookout for new bugs, and when bugs are found they are rapidly exploited.
Carlson says the company's goal is to have the latest available security patches and bug fixes in place on the website. However, he says staying current is an ongoing management task because new vulnerabilities are discovered frequently.
Arvig is a full-service broadband provider, serving 28 counties within Minnesota.


Road Work
05-19-15
Motorists can expect brief delays on three area highways beginning tomorrow/Wednesday as crews complete a seal coating project. The project will extend the life of the pavement surface.
The highways included in the project are: Highway 55 from Glenwood to the west Douglas County line near Hoffman; Highway 9 from Interstate 94 to Highway 10; and Highway 75 from Highway 12 at Ortonville to Graceville.
During this work, a pilot car and flaggers will control traffic, and motorists should plan for daily lane closures in the area where crews are working. Drivers are urged to slow down and be alert for loose gravel and oil spraying. Crews will work during daylight hours.
The work is expected to be done by May 29th, weather permitting.

Session Ends
05-19-15
Minnesota's proposed budget is now in Governor Mark Dayton's hands. Lawmakers made a frenzied dash to a session finish Monday with the chances high they'll be called back to redo some budget portions. An education bill is the most likely veto target because Dayton argued it shortchanged his initiative for new pre-kindergarten programs. But there could be others.
The governor will have a few days to make up his mind after getting budget bills, which will start arriving today.
From there, he'll likely enter negotiations with the Republican House majority about a new education plan that meets his wishes for preschool. The GOP resisted his original proposal.

City of Fergus Falls Award
05-19-15
The city of Fergus Falls picked up an award from the Department of Defense at a recent banquet in Crookston.
City Public Works Director Dan Edwards attended the banquet to accept the award. The award was issued through the Minnesota State Committee of the Employer Support of the Guard and Reserve Group.
Edwards says the award recognizes employers at the local level who have gone above and beyond the legal requirements of the Uniformed Services Employment and Reemployment Rights Act. But he says it also gives special recognition of the support shown to the service member and family, especially during a deployment.
The award was presented to Mayor Hal Leland at Monday's City Council meeting. The city was nominated by Matt Harrington.

Capsized Canoe
05-18-15
Battle Lake authorities were called out to the south side of West Battle Lake Friday when a canoe with two occupants capsized and a boat motor sunk to the bottom of the lake.
The sheriff's office received a report that the canoe capsized about a quarter mile out from shore. Battle Lake police assisted getting the two males to shore.
The Battle Lake Fire Department assisted and retrieved the boat motor and other property from the lake bottom.
Both occupants, who were not named, were treated by Battle Lake Rescue and Henning ambulance.

Weather Damage
05-18-15
Power lines were knocked down in Perham late Sunday morning. The power lines were across county highway 80 just east of Perham, at the Palubicki Farms. Perham police found tin, boards and insulation on the highway. The roof of a shed was torn off and scattered north of the shed. Debris had landed on a neighboring building owned by Perham Coop Propane Plant, causing minor damage to the building. A portion of Perham was without power for a period of time.
The straightline winds were witnessed by a neighbor who said it was a small area of high winds. There was no other damage in the area.